Does content writing look impossible to do?
Even though there are millions of posts published every day, only a few make it to the first page of a search result page.
And did you know that no one reads as much as 70% of all the content businesses create? Gaining and retaining a reader's attention is not a piece of cake.
If you want to make sure that real humans read your content, you need to:
Write for people
Write for people but write for Google and other search engines too.
And this is where content writing comes in.
When you build relevant content, you can grow a business, build a following online, and become a thought leader.
In this post, I'll share powerful writing tips to build your content writing skills. If you're a beginner, you'll be able to transform how you write. And for experts, this post should serve as a good refresher.
All in all, whether a beginner or an expert these content writing tips and tricks can help any writer hone their writing skills.
24 of the best content writing tips for anyone
This is a long post. To sum up, you'll be learning 24 content writing tips for beginners and experts. And you'll rely on a number of content marketing tools to help you.
Here are the main points we'll cover:
Research your topic before you0
Now, let's break down these content writing tips for 2022 in greater detail.
1. Research your topic
Before you can start the content creation process, you need to know what content already exists on the same topic. There are a few reasons you need to do this:
To make sure that you don't create something that's similar to existing posts
To identify key points you should include to make your content relevant
To make sure that your writeup meets your audience's expectations
To match the word count of existing top posts
When I start writing a post, I do a quick Google search on the topic I'm working on. Then, I look open the top posts in different tabs and go through them.
Doing this lets me know what my competition looks like. And it'll help me avoid sounding the same but without leaving out important information.
2. Do your keyword research
What makes content writing different from normal writing?
After all, anyone can create a blog and post an article online.
But when you're a content writer, your goal isn't just to write for yourself. You're writing to help other people and also to help your business meet its digital marketing goals like:
Getting more followers on your blog or social media
Ranking on the first page of search engines for specific keywords
Building your email list
Generating sales from your online marketing efforts
A critical way to meet these goals is to add keywords and phrases to your web content.
Keyword research is learning how people look for information online. Specifically, the keywords and phrases people use that can lead them to your business.
For example, for a company that sells cars, relevant keywords can include 'best family cars', 'used cars near me', or 'electric cars'.
You want to know the keywords customers use to find information. And then figure out how to create content that gets customers to find you.
Learning keyword research and SEO (Search Engine Optimization) is a post on its own. But here are a few basic tips to get you started:
Use Google's free Keyword Planner tool to see what keywords people use
Look at what's trending online with Google Trends
Use a high-quality SEO tool (which is often expensive) to do keyword research and to find related keywords you can write about
SurferSEO is one SEO research tool that can help you find keywords to use.
Once you've identified keywords and phrases, you'll know how to write so that your content is more relevant to people.
3. Create an outline
Beginner content writers (and experts too) struggle to get started when they're working on a post.
What should your opening look like? What are all the points should you cover? How should information flow in your article?
Trying to structure a blog post is hard!
So, here's a classic writing tip for beginners: create an outline first.
What's an outline?
An outline forms the bones of your blog post or article. It consists of the major things you want to tell your target audience. And it looks different for different writers.
Here's one way to build an outline for a great blog article:
Start by putting down different sections: the introduction, the body, and the concluding paragraph
Create bullet points with the ideas you want to include in each section
Add headings and subheadings within the body of your post
Mention the keywords you want to include in different parts of the post
The idea is to chart the main points you want to cover in your article. You don't want to go into detail at this point. Creating an outline helps you structure your post for the best effect. You'll avoid silly mistakes and cover everything that's worth mentioning.
You can create a blog post outline on paper or in your word processor
Having said that, I'm not a big fan of outlines, drafts, and too much structure in the beginning.
Instead, when I write, I use a method called freewriting to put words down. When I'm done with that, I edit my work and wait a while before hitting publish.
This ensures that I cover all the information I need to and avoid two major problems many writers face: writer's block and procrastination.
Also, you can use writing apps to outline and draft your post. There are apps with specific features to help structure your content before you work on its final form.
And there's another type of tool to help: distraction-free writing apps. These apps help remove notifications and create a full-screen experience to help you write more.
4. Create a compelling post title
The following blog post title was read more than 3 million times and counting:
"She Divorced Me Because I Left Dishes By The Sink" by Matthew Fray.
If you haven't read this post yet, I bet you're about to. That's the power of a brilliant post title.
Choosing the right title for your blog post or article impacts whether your post appears in search results and if your readers will click on it.
For this who are new to content writing, I suggest that you don't get too creative with your titles yet. Instead, rely on proven formulas for creating great post titles that will help you gain visibility online.
Here are some post title tips that you can use:
Start your title with a number
Use an odd number in your post title. It creates a psychological impact on readers that compels them to read your content.
Start your post with a 'how to'. For example: 'How to grow your hair fast'
Use power words in your content to incite emotions like awe, curiosity, and even fear
Make sure your post title is under 60 characters and between 8-12. (HubSpot)
Pro tip: Use a headline analyzer to give your headline a score. The higher your score the better your headline is for the internet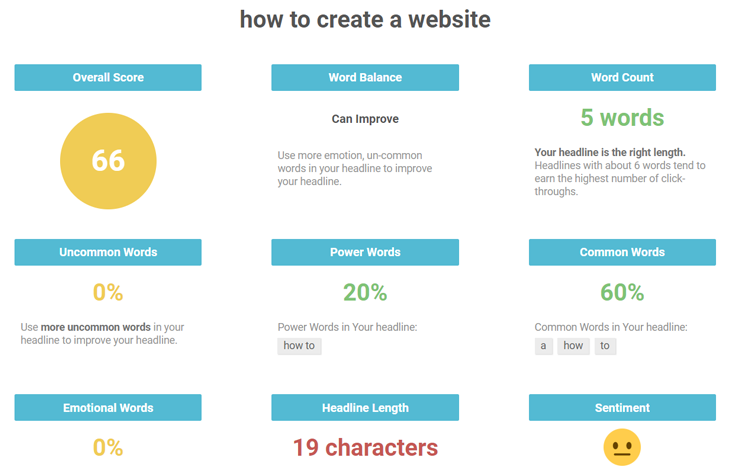 A headline analyzer will give you a score and tips to improve your titles. Source.
Crafting a strong title for your post will help you generate traffic. Because more people will click on such a title and read your content.
5. Create a killer opening
So, you got your readers to land on your post with a powerful headline. But now you have to give your site visitors a powerful reason to keep reading.
Your first paragraph or introduction needs to hook people in from the very first line. It's worth spending hours to create the right opening because once you've attracted your site visitor, they'll read through your content and share it.
Here are some killer openings from online articles:
"It was my first year of college. There I was, eighteen years old, half-drunk, and angrily launching an empty beer can at my boyfriend's head, all in the name of being a cool girlfriend."
~ Zulie Rane. 4 Traits of Extremely Insecure Girlfriends.
"What do people say around you when you're not around"
~ Erin Falconer. How to Make People Love You When You're Not Around
There are many more examples that you can find. But here are some features of powerful openings you can use:
Make a curious statement so that readers want to read the explanation in the post
Start by stating a fact
Ask a question
Contradict a widely accepted piece of information. 'Content is not King. In fact, it's overrated'
Share a personal experience
Start with a quote
Remember, if you're struggling with an opening, you can always write your introduction last. But whatever you do, put in a lot of effort to make it compelling.
6. Add subheadings when writing content
Remember how I said that people don't like walls of text?
Having large blocks of text makes it impossible for your readers to tell if your content is useful at a glance.
They also can't just hone in on the exact information they need.
Adding subheadings to your content tells blog visitors (and Google) if your post has relevant information. They also help people skim your content fast and go to the exact part of your post that's helpful to them.
7. Optimize your headings and subheadings
If you're adding subheadings to your post, you're off to a good start.
But good content writers ensure that even subheadings are optimized to help people. Here are a few ways to optimize your headings and subheadings:
Write clear and descriptive headings. Don't write 'Section 1.0' in a post about home decor ideas. A good subheading could be 'Choose the right color palette'.
Add your keyword in the subheading. For a home decor company, this could look like '11 best home decor color palettes'.
Keep your subheadings short and concise.
Remember that before your readers go through your post, they'll first scan your subheadings to see if your content is any good. Don't hold back from giving away information right in your headings.
8. Add images to your posts
Very few people like to read a wall of text. And reading on a screen is hard, especially since most people use their mobile phones to consume information.
One of the most critical content writing tips for beginners is to add images to articles. Images, videos, infographics, and other visual content does several things:
They provide context and act as examples to increase your reader's understanding of a concept
They make your post look more interesting and attractive
Visual content keeps your article from looking monotonous and compels your audience to keep reading
Remember to add relevant images to get people to engage with your whole article. You'll generate organic traffic, and your engaging content will inform Google that your content is relevant.
Need free images? Unsplash, Pexels, and Pixabay let you use images without any conditions attached.
9. Use numbers and statistics
Want to make your blog content more interesting and convincing?
A surefire way to do this is by adding facts, statistics, and infographics. When you add statistics and other data to support your argument, you convince your target audience that you know what you're talking about.
Take a look at the introduction to this post again. You'll see that I added a statistic related to content marketing. And it helped drive home the point people need solid web content writing tips to create an impact.
Statista is a great source for information on different topics. You can get a lot of data for free. Also, follow sites like Hubspot or Neil Patel to find interesting content and digital marketing statistics.
10. Work on readability
The biggest mistake new content writers make is trying to sound clever.
I get it. You want to make a good impression and show people that you have valuable information to share. But when you write in a convoluted way, you put off your target audience.
Write content so that kids in the 8th grade can understand what you're saying. Here's how you can do that:
Don't use jargon in your website content
Write in simple sentences
Use a platform like the Hemingway App to check for readability
Copy and paste your content to the Hemingway App. It highlights sentences that are difficult to read with the color red. You should change those sentences to make your write -ups easy to read.
There are other important tips you should follow too to make your web pages more readable. And you'll learn all about them in the following web content writing tips for beginners.
11. Address your target audience directly
You can make your content more interesting to readers by addressing them directly.
Notice this post – throughout this article, I use 'You' when I address my reader. It makes you feel like I'm talking to you directly, doesn't it? And it automatically makes the writing seem more relevant to you.
When writing content, always address your reader by using 'You', 'Your', and 'I' or 'We' throughout your post. It will make your writeup look friendly and relevant.
12. Use short paragraphs
No matter how good your articles are, if you're writing lengthy paragraphs and sentences, no one will read them.
You need to write short paragraphs to make your posts easy to scan and more readable.
A good rule of thumb is to make sure that no paragraph has more than 3-4 sentences in it. If you need to add a lot of content for an informative article, use subheadings and break up your post to create the best effect.
13. Make use of bullet points
Do you have a series of tips to share?
Or maybe you want to describe a step-by-step guide or process to your site visitor?
In such cases, using bullet points will help you explain even complex information in a simple way.
Look at this very post. You'll see that I've added bullet points wherever possible. When writing content, look for opportunities to replace a series of steps and ideas with bullet points.
Bullet points keep the content brief, crips, and to the point. That's why bullet points are also actively used in content generated for social media marketing.
14. Avoid keyword stuffing
Keyword stuffing was something that marketers used to do to rank as top pages in Google's search results. Unethical marketers would 'stuff' their web content with keywords in the body, title, and by hiding it on web pages.
Eventually, Google caught on and penalized such websites. And this tactic doesn't work to boost digital content anymore.
Make sure that you don't overuse keywords when writing content for a blog. It makes for an unpleasant reading experience for your readers. And Google is smart enough to know when you're trying to game the system.
Instead, write in a natural way and focus on providing high-quality content. But you should add relevant keywords in way that makes sense in your post, headlines, and your meta description.
Also, focus on providing value to your readers, and you'll rank higher on search engines and get more readers.
15. Use the active voice
A key tip that every successful content writer follows is to use an active voice when they write. And to avoid the passive voice as much as they can.
The best way to understand the difference between these two properties is to look at a few examples.
Example 1:
Active voice: The manager welcomed the new recruit to the company.
Passive voice: The new recruit was welcomed by the manager to the company.
Example 2:
Active voice: She drank some water.
Passive voice: Some water was drunk by her.
In the active voice, a subject performs an action that is described by a verb. In passive voice, the subject is acted upon by the word.
From the examples, you can tell that there's a striking difference between the two voices. The active voice is dynamic and simpler. And the passive voice makes for a less dynamic reading experience. In fact, in the second example, it just sounds weird!
Practice writing articles using the active voice. In fact, the vast majority of your content should be in this voice.
16. Proofread your content
After you've finished writing, you should always proofread your content. Take some time to do this because it will help you catch typing mistakes, spelling errors, grammatical issues, and more.
What's great is that there are free tools to help you do this easily. Check out Grammarly and other free platforms that will correct your grammar and spelling mistakes.
Besides using tools, here are other ways to proofread your writing:
Read your post backward, starting at the last sentence and ending at the first
Use text-to-speech tools to hear how your content sounds when read out loud by a computer
Use Microsoft Word to help you check for errors
The more time you give yourself to proofread your post, the better. I suggest waiting for at least one day before you publish your post. When you take a break between writing and publishing what you've written, you'll clear your mind and spot errors more easily.
Finally, it's super helpful if you can get feedback from someone else who will be able to point out any mistakes they notice in the text.
17. Learn to use different content-based tools and processes
There are many tools that every content writer should learn how to use.
Whether you work for a company or run your own business, you'll be using online tools to collaborate with other people. And you need to publish your work on various platforms too.
To start with, you should be familiar with the following:
Google Docs
You should be familiar with Google Docs if you're serious about your content writing. This is one tool that can help you out with all aspects of your work, from organizing files to collaboration to sharing information.
It's very common for people to collaborate on posts using Google Docs. When you've created your post and shared it using Google Docs, other people who have access can do several things.
They can view, edit, comment, and make suggestions in real-time. And it makes it easier and faster to collaborate with others and make changes.
Markdown
When you're writing a post, it's helpful if you know how to use markdown. More and more websites are using Markdown to create and post content.
Markdown is a very efficient way for people to format their text, links, and images. And it allows you to easily add formatting without having to use HTML.
If you're serious about blogging and content writing, then it's important that you learn how to use this language.
WordPress
Finally, mastering how to use WordPress is essential if you want to make money writing. This is also helpful for new bloggers because the platform allows them to create their own blog which they can monetize by selling ads on it.
455 million websites use WordPress to sell products and host content. If you want to work as a content writer for a business, the chances are high that you'll need to know how to post content on WordPress and make edits.
Learn WordPress through Udemy and free YouTube videos. It'll make your content writing profile more attractive to users.
18. Use AI copywriting tools
This isn't exactly a beginner-friendly tip. I recommend that new content writers create posts and learn about content writing without an AI tool at first.
But, when leveraged correctly, AI copywriting tools can help you understand what a nice article looks like. And they can help you produce content faster.
I use AI writing tools to:
Generate blog post titles
Create outlines
Detect grammatical errors
Compare my content to existing material and much more
I recommend trying out different tools by using free trials. Simplified allows you to create a limited amount of content for free. But I use Jasper to help me with my content writing efforts. You can get 10,000 words free by clicking this Jasper referral link – which will give me more credits to use too.
These are some of the best AI writing assistants that you should work with:
Copy.ai
Copymatic
ChatGPT
iA Writer
Rytr
WriteSonic
Grammarly Business
Simplified
Anyword
Notion AI
Peppertype.AI
INK for All
Article Forge
Wordtune (check my Wordtune review)
QuillBot (see my QuillBot review)
Copysmith
Use any of these AI writing tools and their alternatives to support you in your content creation journey. Read my post on using the right tone of voice for the best AI content generation.
Always remember to edit the output you get from them. And avoid spammy content!
You want to create helpful content according to Google's standards to get more traffic to your writing.
19. Read!
You can't be a good writer if you don't read a lot.
Pick up content writing books to hone your craft and produce meaningful ideas.
Also, you need to read books and articles online on a variety of subjects. In fact, half your job as a content writer is to read. But don't read posts you find online or rely on short social media videos when you have a post to write.
You need to read daily and read a variety of different things ranging from history to marketing to psychology and everything else you can think of.
I'll tell you why:
If you don't read good pieces of work, you can't recognize good writing. And you can't write content that's good.
When you're reading, you'll find interesting content ideas that are worth sharing with your audience.
You'll stay in touch with new developments in the areas you're studying
You'll unconsciously pick up words, phrases, and patterns of writing that will improve your work
Keep reading everything you can get your hands on. And write about what you're learning and thinking as you go along.
The more time that goes by, the better your writing skills become. I promise.
20. Embrace your own writing style
Your audience is looking for fresh information and unique perspectives on topics they care about.
And the best thing you can offer them is your unique way of expressing yourself. Avoid copying the tone and voice you see on other platforms.
Instead, start writing from your own experience. Share what you know and even get personal from time to time.
You'll be surprised at how many people will connect with you. Remember that all the other tips given here are meant to make your writing easier for people to read. There's still a lot of leeway for you to write in an authentic way.
21. Create a swipe file
One of the best content writing tips for beginners I wish I knew at the start was to keep a swipe file.
Maintaining a swipe file is the process of saving your favorite posts in one place. And not just articles or posts but also content like videos, graphics, and infographics.
Your swipe file will act as your best material when you're writing something new. You can use it to inspire you. And it's a great way to store material that you want to reference later.
Use a free cloud storage service to create your swipe file. Whenever you come across an interesting image, article, or online information, take a screenshot and save it.
This image shows you what my Swipe File looks like. I save interesting posts and examples that I find to a cloud storage platform like One Drive or Google Drive. I can easily find examples and pictures to use for my content.
Later, when you're looking for examples to make your content more interesting, all you have to do is look through your swipe file. You'll find the perfect story, image, or reference you need to make your work stand out.
22. Learn to edit your content
Writing isn't the hard part of being a content writer. It's editing. And it's the most difficult part of the process for many people.
You'll need to edit your work after you write it or before you submit it. And this is especially true when you're working on projects with word and character limits exist.
Also, proofreading isn't the same as editing. When you proofread, you check for misspellings and inconsistencies in your formatting.
But editing takes a broader view of your content. Here are some basic editing tips you should know:
If you're editing your own content, wait for a day after you write to go through your writing
Read your blog post aloud
As you listen, ask yourself if your writing style sounds conversational. It should sound like you're talking to a friend
Find and remove adverbs. They weaken your work
Make sure that each section of your post transitions well from one to the next
Check for repetitive statements and the same word being used too many time
Find broad and vague statements and replace them with specific information
Editing is important to become a successful content writer. When you take the time to edit your content, you'll improve your work in leaps and bounds and it'll show in the results you get.
23. Add links to your posts
Every time you write a blog post, it's important to add links.
If you're writing an article about how to grow tomatoes in small garden plots, then include links that go back to the sources that inspired you. Or link to other posts you've written related to gardening or tomatoes.
Adding 'internal links' to your other content helps people find more information. It also allows you to focus on a topic without going off on a tangent. For example, for your article on growing tomatoes, you might mention using fertilizers. But instead of adding a section about fertilizers, you can add a link that takes users to a post dedicated to it.
It makes your blog content less distracting and helps people and search engines find more of your written work.
Knowing about links and adding them in an appropriate way is what separates okay content writers from great ones.
24. Use a project management tool to manage your writing
If you want to manage multiple blog posts, clients, and deadlines, then you need a project management tool to stay organized.
A project management tool is an online software where you can add tasks, set deadlines, assign tasks to a person, track the status of a post, and so on.
Such a tool will help you:
Stay organized: Keep all your content ideas, goals, and progress in one place using easy-to-use tools like Trello, Asana, or Monday.com. These tools are great for visual learners, and you can easily create boards, cards, and to-do lists to keep everything on track.
Avoid missing a deadline: Set reminders and deadlines for each task using these tools, so you never have to worry about missing a deadline again. You'll get email or calendar notifications to remember what to do every day or week.
Collaborate with others: Work with other writers or team members by assigning tasks and adding comments or details to each task. You can add files to a task and keep all relevant information in a single place.
Here are some great content writing project management tools to check out. They are available for free and you'll get more advanced features and user access with a premium subscription.
Asana
Trello
Monday.com
Notion
HubSpot Marketing Hub
Basecamp
Google Sheets and Google Docs
Jira
nTask
ProofHub
Todoist
Slack
GanttPro
Evernote
Dropbox
25. Extra content writing tips
Being a content writer is rewarding if you love to read, write web content, and share information with other people.
However, it is hard work. If you're just starting out, be kind to yourself.
It's common to feel overwhelmed and to aim for perfection. Don't. It can take you between 3-6 months before you feel comfortable as a content writer.
And it can take you a year before you feel like an expert who can easily craft brilliant posts.
It's also a job where you can always learn something new. So, join online communities for writers on Facebook and do an online content writing course.
Make sure to practice writing every day and keep learning. You'll find that you become better at web content writing over time and it's the best feeling in the world.
Leverage the best content writing tips for beginners
If you're looking for useful content writing tips for beginners, then this post should have you covered.
Remember, you have to apply the tips given here to improve. So start content writing online by setting up your own blog or by writing posts on free blogger platforms. You'll go from being a new blogger to a skilled content marketer soon enough.
And don't forget to share your writing too. Using a social media scheduler or content planner will make the task of sharing content easy.
If you're a business owner, consider hiring or working with a content marketing manager. You'll save time and money and generate more revenue.
Have any more questions? Need more tips? Leave me a comment below.
And join my newsletter if you want to get top tips straight right in your inbox.